Psalm 10: KING forever and ever
Psalm 10

(1) Why, LORD, do you stand far off? Why do you hide yourself in times of trouble?

(2) In his arrogance the wicked man hunts down the weak, who are caught in the schemes he devises.
(3) He boasts about the cravings of his heart; he blesses the greedy and reviles the LORD.
(4) In his pride the wicked man does not seek him; in all his thoughts there is no room for God.
(5) His ways are always prosperous; your laws are rejected by him; he sneers at all his enemies.
(6) He says to himself, "Nothing will ever shake me." He swears, "No one will ever do me harm."

(7) His mouth is full of lies and threats; trouble and evil are under his tongue.
(8) He lies in wait near the villages; from ambush he murders the innocent. His eyes watch in secret for his victims;
(9) like a lion in cover he lies in wait. He lies in wait to catch the helpless; he catches the helpless and drags them off in his net.
(10) His victims are crushed, they collapse; they fall under his strength.
(11) He says to himself, "God will never notice; he covers his face and never sees."

(12) Arise, LORD! Lift up your hand, O God. Do not forget the helpless.
(13) Why does the wicked man revile God? Why does he say to himself, "He won't call me to account?"
(14) But you, God, see the trouble of the afflicted; you consider their grief and take it in hand. The victims commit themselves to you; you are the helper of the fatherless.
(15) Break the arm of the wicked man; call the evildoer to account for his wickedness that would not otherwise be found out.

(16) The LORD is King for ever and ever; the nations will perish from his land.
(17) You, LORD, hear the desire of the afflicted; you encourage them, and you listen to their cry,
(18) defending the fatherless and the oppressed, so that mere earthly mortals will never again strike terror.
Can't you just hear the author of this psalm calling for help, "Do something Lord or the evil will overtake me!"
Psalm 10 has no heading. Some Bible scholars believe Psalm 10 to be a continuation of Psalm 9, but no one knows with certainty. Because this unnamed psalm is nestled between a number of psalms attributed to king David, this one is also thought to be penned by him.
At first glance, Psalm 10 seems like one long list of complaints, yet at further study this list will fill us with encouragement.
The psalms are prayers. When you read them, read them like a prayer to God. Psalm 10 starts off with anger, frustration, and fear at what is going on around the author. He moves into asking God for help. Then closes with a song with praise to a God who always hears and answers His children. A prayer.
That is how we are taught to pray. When we talk to the Lord, we share our worries and fears. He hears us, and just even through the act of sharing, we can find peace and comfort in the One who listens. We can also find encouragement that He will act. We trust in that promise.
My friends, hear the encouragement in Psalm 10 today.
Why, LORD, do you stand far off? Why do you hide yourself in times of trouble.
Psalm 10:1
The words of the Lord are timely and meaningful. Do you feel like God is absent right now? Or silent? Some people do.
Or do you feel His presence even more in times of worry and trials?
Or is it a daily (maybe moment by moment) battle or choice to seek Him? Do you, like many of us, wake up in the middle of the night and as the mind re-engages in the dark all those things that seemed so manageable during the day threatened to suffocate you?
Is it in those moments that you can call for God, like our psalmist here, "Why, LORD, why do you stand so far away? Why do you hide your face from me? Why, when I need you most, does it feel like you have abandoned me?"
The presence of God is the joy of his people, but any suspicion of his absence is distracting beyond measure . . . It is not the trouble, but the hiding of our Father's face, which cuts us to the quick.

Charles Spurgeon, English preacher, 1834-1892
This is what we fear- that God won't answer. That He is not listening. That He has, in fact, turned His back on us.
Friends, this is our human response. This is fear. And we know who plays upon this human weakness, don't we? Especially when it's dark . . . and quiet . . . and that voice whispers again, "you truly are alone now."
In those moments, think on God's promises.
God very clearly states His desire for us. Here are just a few of His powerful promises, memorize them:
The LORD himself goes before you and will be with you; he will never leave you nor forsake you. Do not be afraid; do not be discouraged.
Deuteronomy 31:8

Be strong and courageous. Do not be afraid; do not be discouraged, for the LORD your God will be with you wherever you go.
Joshua 1:9

The Lord your God is in your midst, a mighty one who will save; he will rejoice over you with gladness; he will quiet you by his love, he will exult over you with loud singing.
Zephaniah 3:17

 . . . and surely I am with you always, to the very end of the age.
Matthew 28:20

All those the Father gives me will come to me, and whoever comes to me I will never drive away.
John 6:37

For I am convinced that neither death no life, neither angels or demons, neither the present nor the future, nor any powers, neither height nor depth, nor anything else in all creation, will be able to separate us from the love of God that is in Christ Jesus our Lord.
Romans 8:38-29

. . . Do not fear, for I have redeemed you; I have summoned you by name; you are mine. When you pass through the waters, I will be with you; and when you pass through the rivers, they will not sweep over you. When you walk through the fire, you will not be burned; the flames will not set you ablaze.
Isaiah 43:1-2
If you feel alone and as if God hides HIs face from you during trials, remember these promises:
. . . that He walks through the fire with you.
. . . there is no trial that He has not seen before.
. . . no worry that He has not faced.
. . . no problem that is too big for Him.
The refiner is never far from the mouth of the furnace when his gold is in the fire, and the Son of God is always walking in the midst of the flames when his holy children are cast into them.

Charles Spurgeon, English preacher, 1834-1892
There was a widely circulated poem in the 20th century called, Footprints in the Sand (author unknown). The poem is linked below, but it is the story of someone going through a trial, suffering and lonely. One day, he looks back at his life and sees two sets of footprints in the sand, yet only one set during the most difficult times. He asks God, "why would you leave me during those times?" God replied, "Those are my footprints, and I was carrying you."
A beautiful description of God's love and His promises from the above verses. Apparently, there have been battles and controversies over who wrote Footprints in the Sand. Sadly, that is how people are.
But here is a portion of one Charles Spurgeon's sermons and what a gem it is. Maybe he is the one who inspired Footprints in the Sand. Hmmm. May you hear a reminder that the Lord walks with you always. He has not and never will leave you. In fact, He goes before you and behind you.
Were you ever in a new trouble, one which was so strange that you felt that a similar trial had never happened to you, and moreover, you dreamed that such a temptation had never assailed anyone else? I should not wonder if that was the thought of a troubled heart.

And did you ever walk out on that lonely desert island on which you were wrecked, and say, "I am alone- alone- ALONE- no one was ever here before me?

And did you suddenly pull up short as you noticed, in the sand, the footprints of a man?

I remember very well passing through that experience; and when I looked, lo! it was not merely the footprints of a man that I saw, but I thought I knew whose feet had left those imprints; they were the marks of One who had been crucified; for there was the print of the nails.

So I thought to myself, "If he has been here, it is a desert island no longer. Since his blessed feet once trod this wilderness way, it blossoms now like the rose, and it becomes to my troubled spirit as a very garden of the Lord.

Charles Spurgeon, English preacher, 1834-1892
http://spurgeongems.org/sermon/chs2722.pdf
Walk in very garden of the Lord.
Father in heaven, you know our hearts; you know our needs. You know our worries. You know them before we can even express them. When it feels that evil will overtake us, that we cannot see a way out, that the darkness and stillness of the night become unbearable, let us remember your promises. You will never leave. You are walking through the fire with us. Heal our land, in Jesus's mighty name. Until then, let us lean on you. Amen.
Heidi xoxo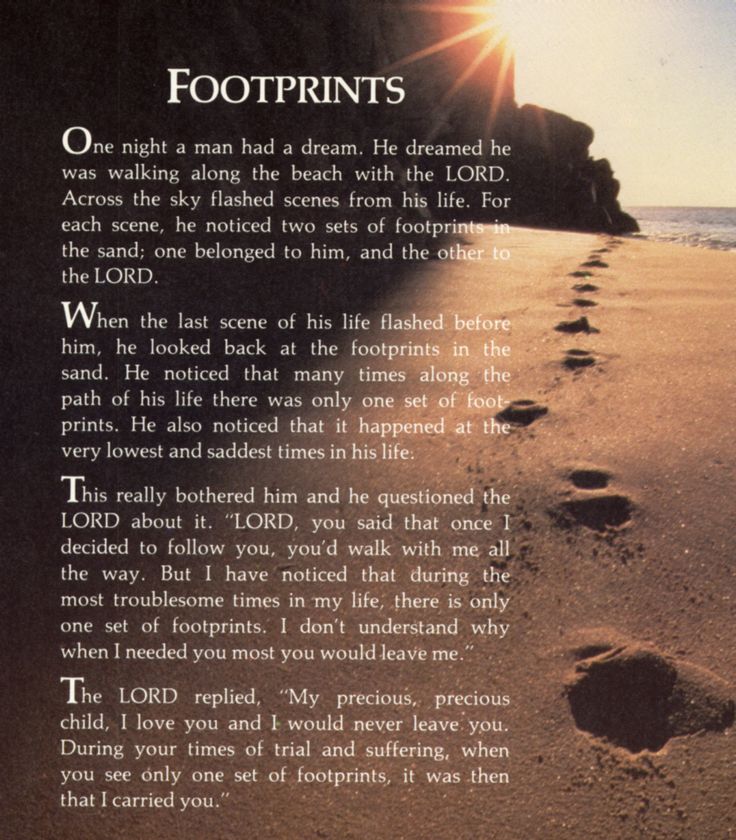 https://www.thegospelcoalition.org/blogs/evangelical-history/where-did-the-footprints-poem-come-from/

: Psalm 10